来自英文版《中国日报》的报道
发布人:李楠 发布日期:2018-04-27
By Chen Nan | China Daily
Updated: April 25, 2018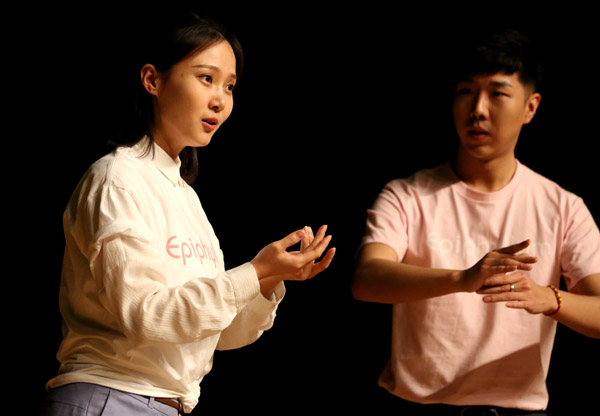 Actors of the Northern Kunqu Opera Theater display a new show Epiphyllum which will make the debut in Beijing on May 30 and 31. [PHOTO BY DU LIANYI/CHINA DAILY]
A new production is looking to bridge the gap between the performing style of Kunqu Opera and the tastes of modern theater audiences. Chen Nan reports.
About a year ago, when Huo Xin started watching Eternal Love, a 58-episode TV series adapted from the online novel titled Three Lives, Three Worlds, Ten Miles of Blossoms, he became enchanted by the bittersweet romance between the fox princess and the dragon prince.
After watching the TV series, which received more than 30 million online views on major Chinese video-streaming platforms, a question popped into his head: "Why is this TV series is so popular with younger viewers?"
Then a second question came to Huo's mind: "If a similar story was told in a Kunqu Opera show, could it be as popular with younger audiences?"
For Huo, a 32-year-old Kunqu Opera director at the Northern Kunqu Opera Theater, a 60-year-old theater based in Beijing, he has been trying to connect Kunqu Opera, one of the oldest traditional forms of Chinese opera with about 600 years of history, with the younger generation.
Over the space of two weeks, he watched the entire TV series again, and realized that a Kunqu Opera performance could be a vehicle for presenting this kind of story.
He then wrote a script about a love-triangle between a man, a woman and an epiphyllum (cactus flower) fairy, which he turned into a 100-minute Kunqu Opera show, titled Epiphyllum.
The show will make its debut at Beijing's Long Fu Theater on May 30 and 31.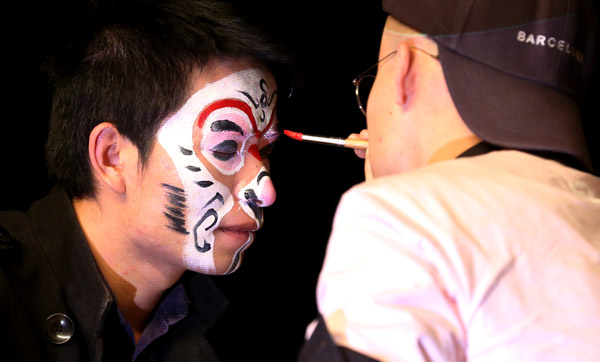 Students of the Capital Normal University in Beijing have a facial make-up of Kunqu Opera. [PHOTO BY DU LIANYI/CHINA DAILY]
Ahead of this, Huo and his cast took the show on a preview tour of Beijing universities, visiting Capital Normal University on April 12 before going on to Renmin University on April 18.
"We are attempting to bridge the gap between the performing style of Kunqu Opera and the tastes of modern theater audiences," says Huo, adding that the three main actors in the production are of a similar age to the students they met, and that the promotional video for the show combined scenes from Kunqu Opera with hip-hop music.
He also added Western string instruments, violin and cello to the band, while retaining the major musical instrument for Kunqu Opera - the bamboo flute.
At the CNU showcase, actors from the troupe interacted with the students, painting their faces as different characters from Kunqu Opera, and introducing them to the history of the ancient art form. Scenes from Epiphyllum were also performed.
One of the audience members was Bai Qiutong, a graduate student from the CNU's music department. After graduating with a bachelor's degree in history, Bai started up a student community for learning Kunqu Opera in 2016, the first of its kind at the university.
Initially, about 30 students applied to join the community, but now it has more than 130 members. Every week, professional actors and musicians offer students training and guidance on how to perform Kunqu Opera.
Bai became interested in Kunqu Opera at the age of 11 when she began reading scripts of famous works by Ming Dynasty (1368-1644) playwright Tang Xianzu, such as The Peony Pavilion and The Purple Flute, which have been adapted into Kunqu Opera shows.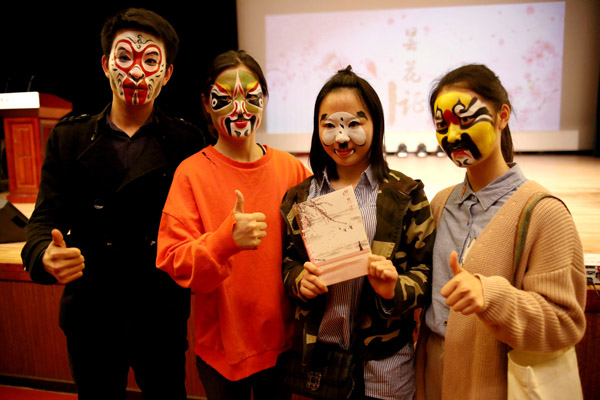 Students of the Capital Normal University in Beijing have a facial make-up of Kunqu Opera. [PHOTO BY DU LIANYI/CHINA DAILY]
"I love everything about Kunqu Opera, such as the musicians, the actors' singing and the lyrics. They are so beautiful," says Bai.
"Some of the students had never seen Kunqu Opera shows before and just joined out of curiosity. But they soon became interested in the art form, and some of the students are now able to sing a complete Kunqu Opera work."
Huo, whose father is a veteran Peking Opera actor, started learning Peking Opera in Beijing aged 12. At 22, he began to study Kunqu Opera at the training school of the Northern Kunqu Opera Theater. In 2017, he obtained his master's degree in directing from the National Academy of Chinese Theatre Arts.
"I am not afraid of experimenting with new ideas for Kunqu Opera because it is such a vibrant and valuable art form with a long history."
According to scriptwriter and director Song Jie, a retired professor formerly with the Shanghai Theatre Academy, and artistic director for Epiphyllum, Kunqu Opera is the perfect medium for portraying romantic and tragic love stories because of its soft and soothing music.
"I was very excited when Huo told me about the show, because it's a new story performed by new actors. When we talk about Kunqu Opera, we always mention the classic piece, The Peony Pavilion."
"But modern Chinese theater needs something new and the art form itself needs new works to keep it alive and moving forward," the 71-year-old says.
译文:
戏曲升级
新作品正在寻求弥合昆曲表演风格与现代剧场观众口味之间的差距。 陈楠报道。
大约一年前,霍欣开始观看永恒之爱,这是一部58集电视连续剧,改编自网络小说"三生三世十里花",他因狐狸公主和龙王子之间的苦乐参半而着迷。
在收看了主流中文视频平台上超过3000万在线观看的电视剧后,一个问题突然出现在他的头上:"为什么这部电视剧在年轻观众中很受欢迎?"
接下来的第二个问题是霍先生的想法:"如果在昆曲表演中讲述类似的故事,它是否会受到年轻的观众的青睐?"
对于一个在北京有60年历史的剧院北昆曲剧院的32岁昆曲导演霍先生来说,他一直试图将中国有600多年的历史的最古老的传统戏曲之一的昆曲, 与年轻一代紧密相连。
在两周的时间里,他再次观看了整部电视剧,并意识到昆曲表演可能成为展示这类故事的载体。
接着,他写了一段关于一个男人,一个女人和一个昙花(仙人掌花)仙女之间的爱情三角恋的剧本,然后他变成了一场名为昙花的100分钟昆曲表演。
该节目将于5月30日和31日在北京龙富剧院首演。
在此之前,霍和他的演员在北京大学进行预演,并于4月18日前往中国人民大学前在4月12日参观了首都师范大学。
"我们正试图弥合昆剧表演风格与现代戏剧观众口味之间的差距,"霍说,并补充说,制作中的三个主要演员与他们遇到的学生年龄相仿,而且他们的宣传视频是将昆曲与嘻哈音乐相结合。
他还为乐队添加了西洋弦乐器,小提琴和大提琴,同时保留了昆曲的主要乐器 - 竹笛。
在首都师范大学的展示中,来自剧团的演员与学生互动,将他们的脸画成与昆曲不同的角色,并向他们介绍了古代艺术形式的历史。 昙花的场景也进行了演出。
其中一位观众是来自首都师范大学音乐学院的毕业生白秋桐。 毕业后获得历史学士学位,于2016年创办了昆曲学习社团,这是在大学里的首个此类社团。
最初,大约有30名学生申请加入社区,但现在已经有超过130名成员了。 专业演员和音乐家每周都会为学生提供有关如何表演昆曲的培训和指导。
当她在11岁时开始阅读明代(1368-1644)剧作家唐显祖的着名作品,如已被改编成昆曲表演的牡丹亭和紫笛,她就对昆曲产生了兴趣。
"我喜欢昆曲的一切,比如音乐家,演员的歌声和歌词,他们非常漂亮。"白说。
"有些学生以前从未见过昆曲表演,只是出于好奇而加入,但他们很快就对这种艺术形式产生了兴趣,有的学生现在能够演出一部完整的昆曲作品。"
霍先生的父亲是京剧演员,12岁开始在北京学习京剧。22岁时,他开始在北昆剧院的训练学校学习昆曲。 2017年,他获得中国戏剧艺术学院指导硕士学位。
"我不害怕尝试昆曲的新思想,因为它是一种历史悠久,充满活力和有价值的艺术形式。"
据编剧兼导演宋杰介绍,他是一位退休教授,曾任上海戏剧学院艺术总监,昙花艺术总监,昆曲因其柔美舒缓的音乐而成为描写浪漫与悲情爱情故事的绝佳媒介。
"当霍先生告诉我这个节目时,我非常兴奋,因为这是一个由新演员演绎的新故事。当我们谈论昆曲时,我们总是提到经典作品牡丹亭。"
"但现代中国戏剧需要新的东西,艺术形式本身需要新的作品来保持它的活力和前进。"这位71岁的老人说。
信息来源: 中国日报